About the author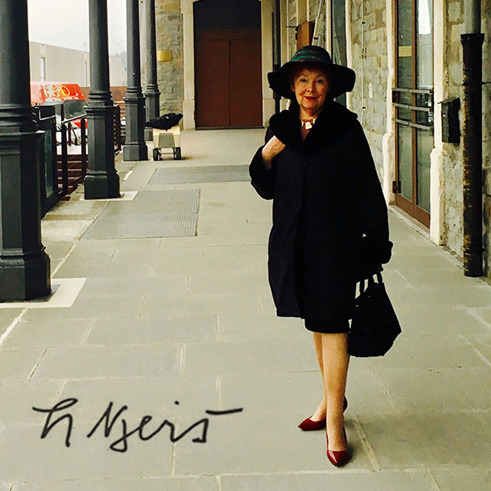 Trst 2017., Bienale Internationale Donna
Artist statement:

I have been creating something since I remember. I was a child when I decided to become an artist. The inexhaustible possibilities of today's technology combined with ancient techniques made me simply fall in love with ceramics, especially RAKU. The mysteries and ruled of this particular technique have also determined the way I work.

My favourite subjects are the female body, flowers and leaves, which have to fit within a given shape, whether square or round. However, the line of the drawing is my main concern. The landscapes also offers many possibilities. Whether I paint on canvas, paper or choose clay surface, I follow the same pattern.

I know that my work gives people pleasure and joy. As I work, I aniticipate the happiness my creations will give to the viewer and I see that they wish to have and behold every day something that I have created. This appretiation of my work by others makes me happy and fulfilled. All beautiful things which surround me inspire me: the setting of the sun, the impression of a leaf on wet clay…

The legacy in paintings and ceramics will survive me for centuries.
Ljerka Njerš graduated from the Applied Art School (Ceramics Section), Zagreb, having been taught by the well-known ceramicist Blanka Dužanec. She then studied painting at the Fine Arts Academy in Zagreb, passing out from the class of Marin Tartaglia. Since then she has been a professional artist and has regularly exhibited at numerous ceramic exhibitions at home and abroad. As well as many appearances in collective exhibitions, she has had over 80 one-woman shows. And in her periods of study abroad she has taken part in many meetings and symposia.
One very important such trip was in 1987, to Portugal, where she worked in the Santana stoneware factory, Lisbon, next year being invited to the famed porcelain works of Vista Alegre. In 1988 she spent time in the famed Curwen Studio in London (run by Stanley Jones), where she did a cycle of coloured lithographs. One of these was chosen for the prestigious Summer Exhibition in the Royal Academy. Since 1985 she has been taking part in auctions of contemporary ceramics by the renowned London auction houses Cristie's and Bonhams. In that year she also started her work in concert with the Zagreb City Museum. She is a member of Croatian artists' associations (HDLU and ULUPUH) and of the Society of Designer and Craftsman in London. Since 1992 she has been involved with the charitable work of the order of St Lazarus.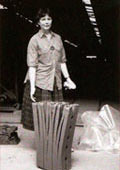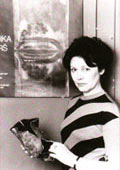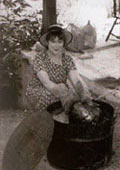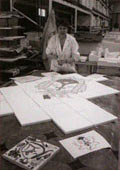 Several short documentary films have been made about the ceramics and paintings of Ljerka Njerš, as well as an animated documentary, The Art of Clay and Fire, by Ernest Gregl.
She has won a number of professional and public awards and commendations. She won the City of Zagreb Prize in 1998, and has been awarded the order of the Croatian Morning Star (with the figure of Marko Marulić) for contributions to culture. As well as painting, ceramics and prints, she deals with illustrations and book design. She lives and works in Zagreb.
---
Awards and recognitions
2000.
International art workshop "Plemenitaš" for ceramics in raku technique awarded Ljerka Njerš for the "goranski" souvenir
I art colony "The beauty of raku ceramics " – Klimno/Krk and Morčić Bakar Gallery, I prize to Ljerka Njerš for the souvenir of the city of Bakar
1995.
Award of the city of Zagreb for 1994.
1990.
XVI Zagreb school of graphics, Cabinet of Graphics HAZU, Zagreb, III world triennale of small ceramics, Zagreb, Diploma
1989.
24. Zagreb Salon in the section "Towards the 900. years of the city of Zagreb",
Award to Ljerka Njerš and Zagreb City Museum
1987.
Univerzijada 1987, Zagreb, Award from "Jugokeramika" at the souvenir award
II world triennale of small ceramics, Zagreb, diploma
XI biennale Slavonia, Osijek, ex aequo to Ljerka Njerš
1986.
Award of the year from "Jugokeramika"
Award of the Tourist allience of Zagreb
1984.
International Academy of Ceramics, Wenatchee, SAD, Diploma
1983.
V trienale of yugoslavian ceramics, Beograd
Award of the Society of applied arts of Macedonia
V trienale yugoslavian ceramics, award of the city of Subotica
Art ceramics colony "Hinko Juhn", Našice, award for the work in the colony
1979.
Prize for the solution of the urban picture at the Maksimir county contest, Zagreb
1973.
II Miedzunarodowa wystava ceramiki, Gdansk, Poljska
---
Important books
"Prof.dr.Ivanka Reberski: Ljerka Njerš monografija 2012"
izdavač Udruženje likovnih umjetnika primjenjenih umjetnosti Hrvatske (ULUPUH)

"Ralph Hubner: Who is Who u Hrvatskoj"
u Hrvatskoj 2011. prvo izdanje
"Svijet oko nas" – encyclopaedia for children and youth,
"Školska knjiga" Zagreb, pp. 33. i 123.
"Potters",
Seventh Edition, The Craftsman Potters Association of Great Britain, p. 186.
"Art Diary",
Gian Carlo Politty (Italy), 1985, p. 449.
M. Gorini: "Albero nudo con disegni di Ljerka Njerš",
Panda Edizioni (Italija), 1981.
"Contlapunto"
Nov-Dic 1980. rivista di poesia ed arte. Disegni a copertina di Ljerka Njerš, Noventa Padovana, Padova, Italy
V. Crnković: "Njerš",
Zagreb, 1980.

"The Masters of Modern Ceramics",
Editrice S. PA. Faenza (Italija), 1984.
M. Baričević: "Povijest moderne keramike a Hrvatskoj",
Školska knjiga, Zagreb, 1986, pp. 100, 121, 130.
"Likovna enciklopedija Jugoslavije",
sv2, Jugoslavenski leksikografski zavod, Zagreb, 1987, p. 487.
"Akademija likovnih umjetnosti u Zagrebu",
zbornik, Zagreb, 1987, p. 97.
"Who is Who in International Art",
International Biographical Centre, Cambridge, 1987, str. 89, 121, 462.
P. Dormer: "The Meaning of Modern Design",
Thames and Hudson, London (Velika Britanija), 1990, p. 160.
J. Depolo: "Ljerka Njerš",
monography, Grafički zavod Hrvatske (biblioteka Prizma), Zagreb, 1990.
"Samo tebe volim, oj Kroacijo",
map, Mladost (M. Šovagović), Zagreb, 1992.
"Hrvatski leksikon",
sv 2, naklada Leksikon d.o.o., Zagreb, 1997.
P. Brajsa: "Umijeće bračnog života",
Zagreb, 1997; illustrations by Ljerka Njerš
Maja Gregl: "Ljubavi Alme Mahler",
Zagreb, 1999; illustrations by Ljerka Njerš
Maja Gregl: "Osmijeh Lukrecije Borgije",
Zagreb, 2001; illustrations by Ljerka Njerš
"DIOGEN" časopis ON LINE broj 21. travanj 2012.
Sarajevo Bosna i Hercegovina.
Gl.i odg. urednik Sabahudin Hadžialić

"LICA BEZ SJENE"-umjetnički ateljei
Marina Baričević,2018.
Izdavač: In Tri d.o.o.

---
FOTOGRAFIJE SA REMETSKOG KAMENJAKA
autor: Ljerka Njerš